We made it home at about 6 p.m. (Pacific time) on Tuesday, which didn't leave us very much time to unpack. We got a few things (mainly, the mattress) out of the truck and set up camp in our living room for the night.
Yesterday, the fun began. I'm not being sarcastic, either. Fresh starts are the best. Having all of our stuff tucked away neatly into clean spaces makes me feel ...just... so happy.
So, without further ado, this is our 600-square-foot apartment!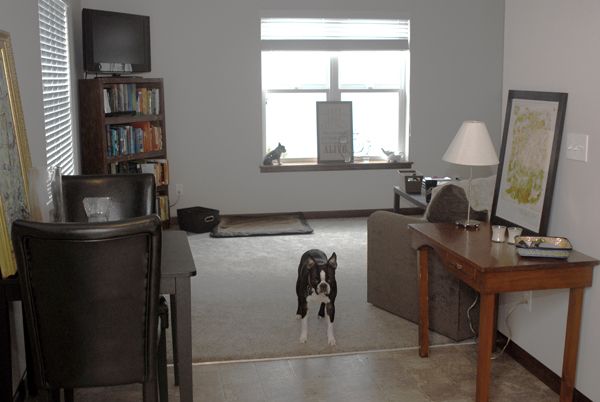 The view from the door. On the left is our little kitchen table, on the right is my old desk, which we've converted into an entry-way table type thing, and in front is our living room with huge windows. The ones on the left side of the apartment in the living room & bedroom are right next to a Foundry, so our view is of lovely metal siding, which is fine, because it manes we can keep our windows open all day and no one can see in!
The kitchen is on the right from the front door. It's pretty standard, but here are a few of our fun decorations & such. There is a ton more counter space & storage compared to our last kitchen. And we have a dishwasher. Be still my heart.
A closeup of the entry-way desk/table. From left-right: a lamp I've had since college, a map of Horseshoe Canyon Ranch in Jasper, Ark., some candles & a mail-keeper thing my parents brought me back from a cruise.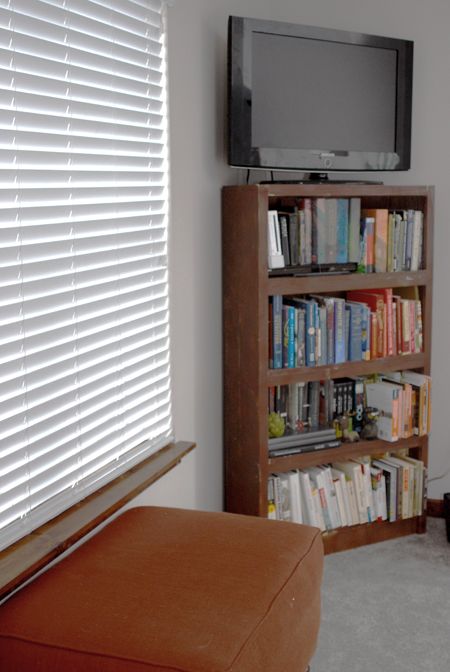 In the foreground is an orange ottoman that Aaron's dad & step mom gave us. Behind that is the TV, DVD player Wii & books! I organized them by color...except for the top shelf which has Bibles, the Harry Potter series & climbing guidebooks. Aaron made this bookcase, by the way.
This is our Foundry-facing living room window with a few knick-knacks & a poster that I printed myself back home in Arkansas. (The quote is by Haruki Murakami.)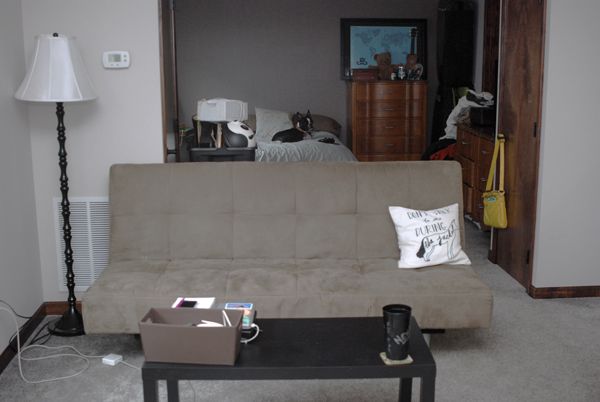 This is the view from the middle of the living room looking back to the bedroom. When they say open floor plan, they mean open floor plan. We're hoping to get a screen or two to better separate the two rooms.
I call this one "the mess behind the couch" ...this box of crap is the only stuff that couldn't find a home. I'm surprised it's as small a collection as it is to be honest. It's mostly decorations we don't have room for. A few things I know I'll take to work with me, but a few will probably stay in the box... The brown cardboard box has already left us for Goodwill land.
You might notice a bit more overflow here...we didn't have a storage space big enough for our bouldering pads. I enjoy the decorations on the dresser, though!
A few shots around the bedroom. My mom kindly sent us the plant. It's near the window to soak up as much light as possible. The weather has been pretty typically Oregonian since we arrived. The bookcase is filled with our music & movies.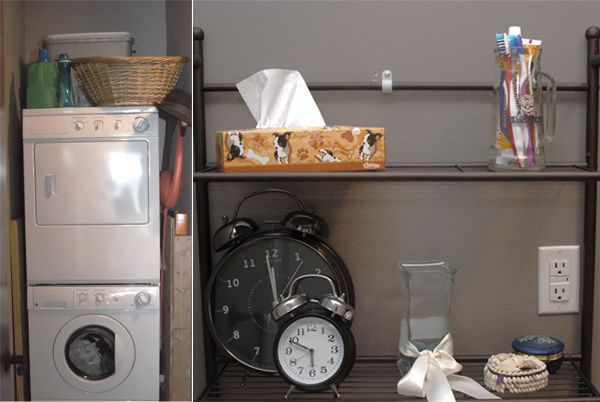 Finally, the bathroom! It has our huge, main closet. All of our clothes & shoes fit, and we're using the top shelf for random storage. ...and the washer/dryer. Amazing. This is probably my favorite room in the house.
Hope you enjoyed this little tour. I'm loving our new space. It's small, but cozy, and I'm we'll make happy memories here for as long as we decide to stay.