Last night was productive. I finally managed to use up the two cups of rice I cooked on Tuesday when our leftovers from last week finally ran out.
We've had Mujadra, Burrito bowls, and last night: pineapple fried rice. (the Forks over Knives recipe).
Before I started the fried rice I got some banana bread in the oven. It's been randomly cloudy and ...angry-looking outside for the last couple of days, and there's nothing more comforting. I use my momma's recipe.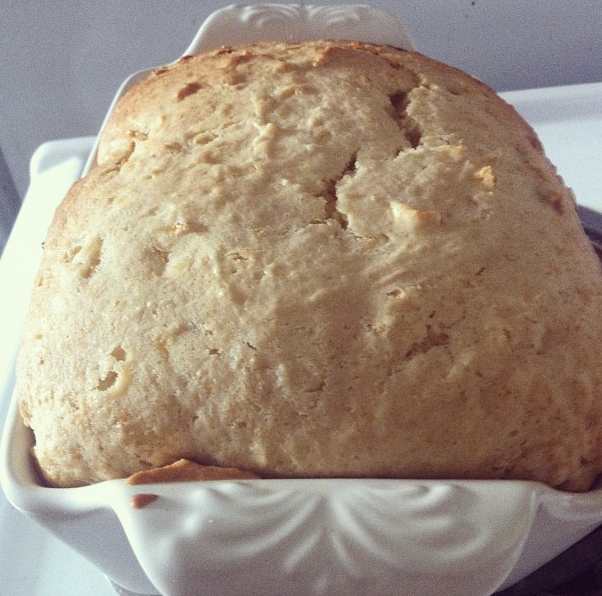 • 3/4 cup butter or margarine – softened to room temperature
• 2 cups sugar
• 2 eggs
• 2 teaspoons vanilla
• 3 cups mashed very ripe bananas
• 3/4 cup milk
• 5 cups of flour
• 6 teaspoons baking powder
• 1 teaspoon salt
• 1 1/2 cup chopped pecan or walnuts – optional
• Pam
Spray loaf pans liberally with Pam.  Preheat oven to 350*.
Cream margarine and sugar together.  Add eggs and vanilla.  Mix well.  Stir in bananas and milk.
Mix dry ingredients together – and then stir into banana mixture.  Mix only until dry ingredients are mixed in.  Do not over mix or the banana bread will be "tough."  Stir in nuts if desired.  Pour equal portions into pre-Pammed loaf pans.  Bake for about 1 hour at 350* until a toothpick stuck in the center comes out clean.
Anyway, here's some stuff I've been enjoying this week:
•English breakfast tea
•greek yogurt & berries
•meal planning, baking
•banana bread
•rewatching Laura Vitale videos...
There's a fat kid inside of me begging to get out...