This weekend, we hung out at our new home crag, Smith Rock. It was our second outing there. Last time, we hit up the more popular areas, and since those areas get really busy on the weekends, on Saturday we set out with a game plan: visit one of the least popular areas of the park, the Marsupial area. According to our guide, it had some great climbs!
The reason it's not popular? The approach. It's long, and much of it is on talus.
I hate walking on talus. This weekend has prompted a recent purchase of some new approach shoes (which I thankfully found on sale...)
Boone was a trooper at least.
Aaron can often be found like this...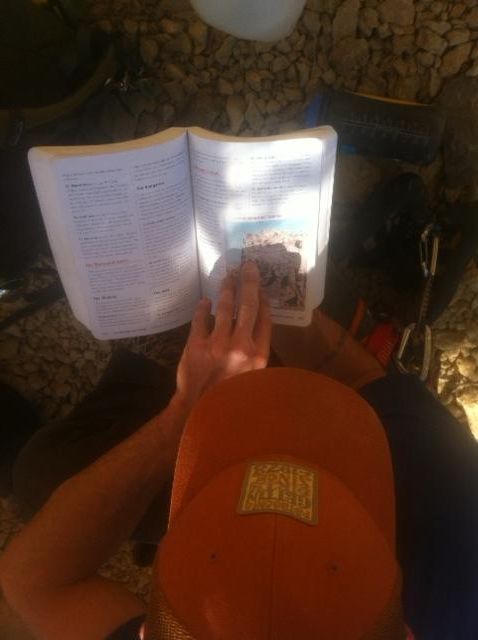 And here's a shot of our new favorite area.
Despite the tough hike, I really want to go back to this area! I think my first 5.11a might be there, along with some fun 5.10s.
The thing I can't get used to about Smith, which is still causing me some anxiety (which is something I've battled for the past year, spot climbing) is how glassy all the holds feel. I don't like the jugs that much because it feels like you might just slip off of them.
Because my hands are small, I feel much better suited for the tiny crimps on the harder climbs, but since I'm not confident in my strength/ability on the tougher grades, I was a complete top-roping wimp this weekend, and that needs to end.
Next time, I want to head over to the Rope de Dope block to get my confidence up. After that, I think I'll work on Wedding Day, a 10B. I don't think it'll take me too long. The crux is to the first bolt, which I did this past weekend.
Right now, like I said, it's just about building confidence and endurance, so I can get through the crux sections with composure and keep going.
Saturday night, we slept in the truck because we were too tired from all the hiking to put up the tent. We left before noon on Sunday after being shut down by heat and exhaustion. A not-so harrowing end to a seriously harrowing weekend.