I am having a very nice Saturday morning. I baked carrot-apple-zucchini muffins (with cinnamon & orange zest - I highly recommend baking anything with this combination when it starts to feel like fall wherever you are) for us, and I have the first of two loaves of zucchini bread in the oven for our coworkers next week.
I have tea. I have candles burning. I really have no desire to leave my freshly-cleaned house, but I will in just a bit for a little run before I continue on with the rest of the day: shopping for bike fenders and attending our first OSU football game tonight!
As good as this morning is, though, I'm not sure it tops one a few months back when we stopped in Eugene on the way to go climbing and had brunch at Morning Glory Cafe downtown.
I had something they call The Three Sisters. The menu says: A mountain of herbed glory potatoes, broccoli, mushrooms, zucchini, tomatoes and onions. Topped with your choice of mozzarella cheese, nutritional yeast sauce, herbed tofu sour cream, or tantric mushroom gravy. Served with your choice of homemade bread. Half portion: $6.75 Add organic baked tofu, organic grilled tempeh slices, or soysage patties: $2.75
I've been dreaming about this and craving it ever since, so, since I had the list of ingredients in front of me, I decided to attempt it.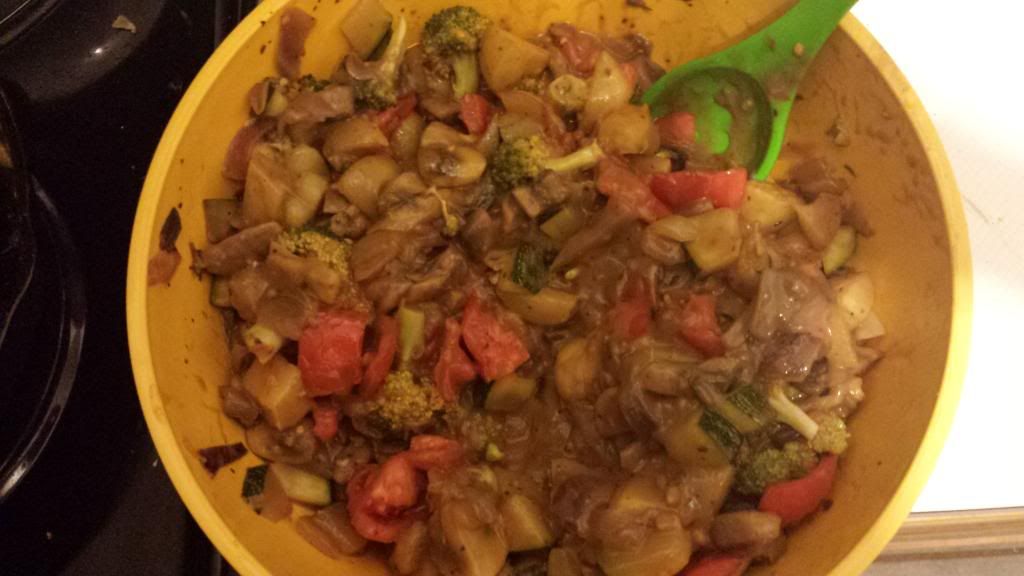 I know it doesn't look pretty, but I thought it turned out pretty well! Here's what I used:
a good amount of yukon gold potatoes
1 head of broccoli
1 cup of mushrooms
2 cups of zucchini (because we have a lot of zucchini still)
3 small/medium tomatoes
1 small yellow onion
1 batch vegan mushroom gravy
I covered my yukon golds and broccoli with oil, salt and pepper and roasted them at 425 while I started on my mushroom gravy (I used this Whole Foods recipe, which did the job!). Once my gravy was nice and thick, I kept it warm on low while I caramalized my onions in butter and then threw in my zucchini, mushrooms and tomatoes in that order. When everything was done, I decided to just combine it in the big bowl you see in the photo. We still have a ton left, and it's kept nicely in the fridge. Craving satisfied.
By the way. This meal was completely vegan at Morning Glory, but since I'm not a vegan, I happily used some butter for frying purposes. :)