Another weekend is in the books. Friday's usual pizza night turned into pasta night. We were going grocery shopping after work, which opened up a myriad of dinner opportunities, but Aaron said he felt like pasta, so pasta it was. My current favorite recipe is based on this Pinterest favorite, as I do love the goat cheese. I usually leave out the artichokes, but this time we did opt to add some mushrooms & sun-dried tomatoes to the sauce!
So, after work we made our way to the store and picked up everything we needed ...except the actual pasta, which I realized after we'd pulled out of the parking lot. Luckily, just around the corner was our local Target store, and we ran in and fetched some trottole. How the hell have I never cooked with that stuff before? It holds sauce perfectly, and like most things Archer Farms, this variety was delicious!
After a jaunt down to Eugene on Saturday morning during which we may or may not have ended up with a half dozen Voodoo doughnuts, we headed out to Wolf Rock.
Wolf Rock is apparently Oregon's largest monolith, and it does look intimidating from several miles away. Saturday was the first really hot, undebatably-summer day in Oregon so far, and since there aren't that many sport routes at Wolf Rock, and since I'm still not entirely psyched on Sport climbing at the moment, we decided not to camp near the crag that night.
Instead, we headed to Sisters, only stopping in town for beer...
I've only seen the Kansas-City-based Boulevard beer in two places in Oregon so far: Market of Choice in Corvallis and now, Ray's Food Place in Sisters. Neither of these stores have stocked my favorite: Boulevard Wheat, so if anybody knows where to find that, please let me know! I will buy it in cases.
This Bock was delicious, though! Maybe even rivaling the Wheat. I really enjoyed drinking it when we made it to the Sisters Boulders.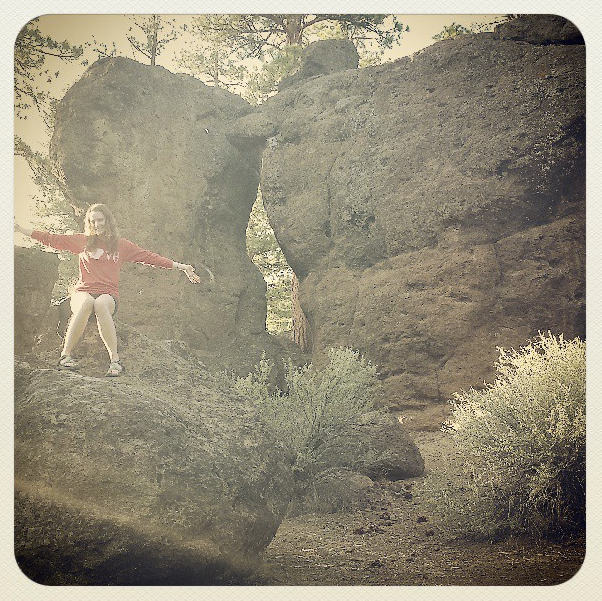 This area is a really cute, neat and compact boulder field. The rock is volcanic and the 30-ish-food boulders just rise out of the flat landscape.
We fooled around on a few of the problems on Sunday, and while we didn't climb anything THAT quality, I'm convinced there are amazing problems out there, and I want to find them! We'll be back, Sisters.